A cool morning breeze swept by as I enjoyed my coffee on the lanai a few mornings ago. This was the closest thing to "fall" I've felt this October here in Hawaii. Instead of picking apples this year, I'm harvesting squash. We have a TON of it. It's a variety called kabocha squash, which is one of my favorite kinds because it cooks so quickly. Most of you should be able to find it at your local farmers market (preferably) or grocery store. It looks like a pumpkin and can be green, orange, or multicolored.
This is a super easy recipe that I came up with while here in Hawaii. I'm so lucky that (for now) I'm able to pick the lemongrass, ginger, kale and herbs straight from the farm! It really is amazing to go to the garden instead of the fridge for my ingredients!
Note: I know that fresh lemongrass is a rather obscure ingredient. I've found it at Asian markets and the Asian stands at farmers markets (in San Francisco), and at Whole Foods on the east coast. If you can find it - I'd recommend trying it just for fun! If not, you can use preserved lemon, or just go without either.
Double Duty Kabocha Squash Soup
Active time: about 35 minutes
Total time: about 50 minutes
Ingredients:
- one large kabocha squash
- coconut oil or butter, whatever you prefer
- fresh garlic, 3-6 cloves (depending how much you like garlic)
- fresh ginger, about 1 tablespoon grated or minced
- about half a bunch of kale (roughly two handfuls chopped)
- half a (13.5 oz) can of coconut milk (full fat for creamier soup, light is fine if you're going lighter) OR you can use 3/4 a container of one of these kinds of coconut milk
- a few sprigs of fresh rosemary and/or sage (ideally two of each)
- 2-3 stalks of fresh lemongrass OR 3 wedges of preserved lemon (optional but recommended)
- water
Tools and stuff:
- large pot for soup
- chef's knife and large cutting board
- large spoon
- can opener if using canned coconut milk
Instructions:
1. Chop your squash into roughly bite-size chunks. Chopping the squash is the most annoying/time-consuming part of this recipe so it's great that we'll get it over with first. One of the great things about kabocha is that you can actually leave the skin on if you want to save time & effort. You'll want to cut off any barnacle-looking growths and/or spots, but otherwise, I usually just cut off the extra-thick areas of skin and leave the rest on. Sometimes I do cut it all off - experiment and see what you prefer. Below you'll find an instructional photo series of how I chop my squash.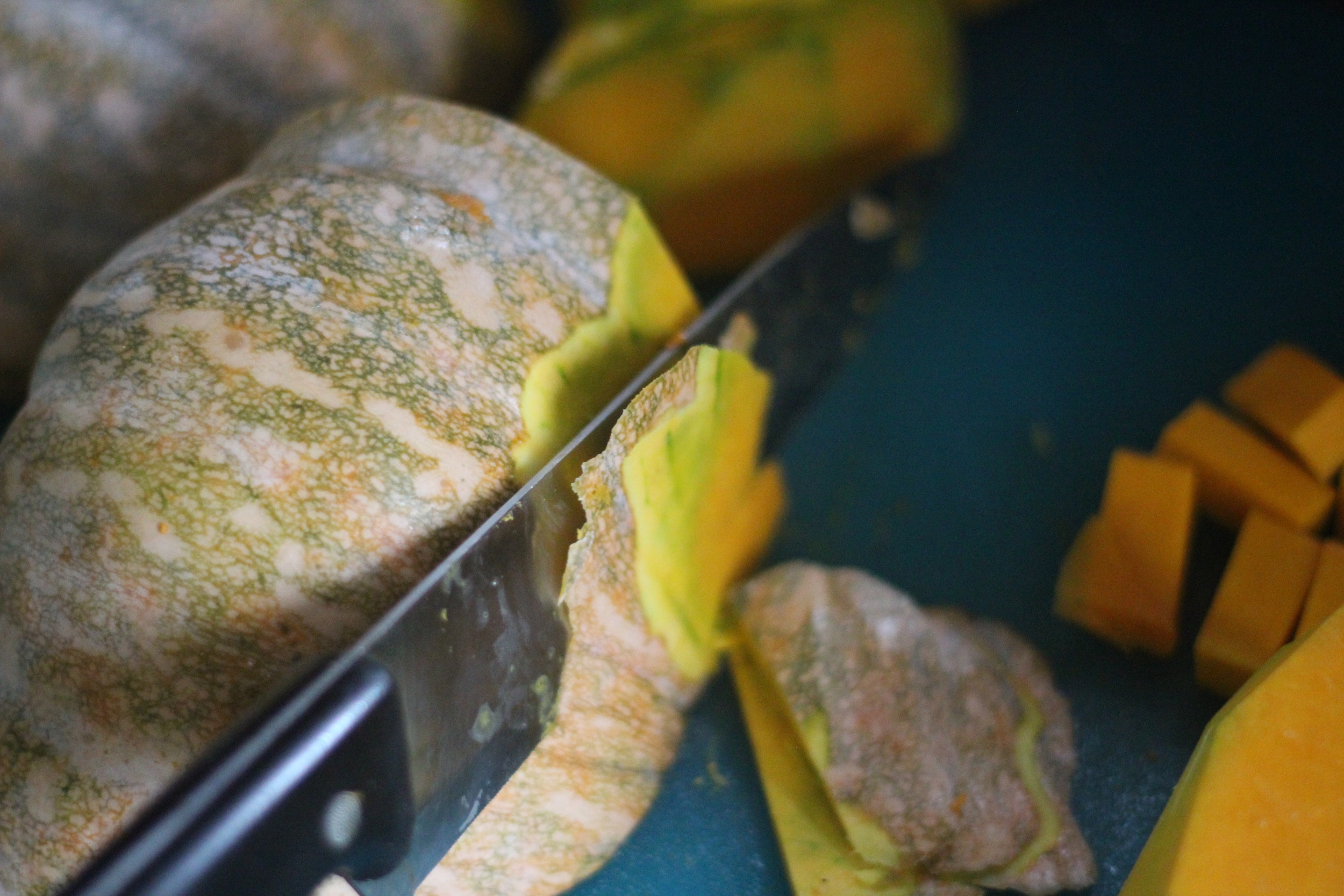 2. Crush and mince your garlic and ginger; chop kale into ribbons.
- If you're using lemongrass, rinse and dry it, then trim the ends and remove any dry outer layers until you have more tender, pale yellow/green stalks. Make sure to include the most tender part - usually the bottom of the bulb, and cut into pieces that are about four inches long (this does NOT need to be exact). Then pound the stalks with the back of your knife to release the oils and flavor.
- If you're using preserved lemon, pick out about 3 wedges and mince.
3. Get out your big soup pot. Heat the oil on medium and add your garlic and ginger. When they start to become fragrant, add your preserved lemon (if using). After another minute, add the squash and stir to coat.
4. Now add your half can of coconut milk. (If you want a more decadent soup, feel free to add the whole can, but I usually save it for something else like a coconut key lime pie - recipe coming soon!) Then fill up the pot with water so that you almost cover the squash. You want a couple of inches of room at the top of the pot.
5. Stir well to mix the coconut milk and water together. Now add your sage, rosemary, and lemongrass (if using). Gently push them under the liquid so they're submerged, but don't stir. (This makes it easier to remove them at the end.)
6. Turn up the heat to high and bring to a boil - should take a little under 10 minutes. Once at a boil, turn down to simmer (small bubbles should be coming up). Cook for another 10 minutes, then check the squash with a fork. The goal is for the top-most squash to be tender but not totally falling apart. If needed, give it another five minutes. When it's ready, use your spoon to gently skim out some of the top-most squash into a heat-proof tupperware (or bowl). This is the "double duty" part of the recipe - you're reserving these chunks of squash for other uses - throw them in salads, eat with eggs, season with spices and make a side dish, whatever you like! I usually take about a cup and a half but take as much or as little as you want!
7. Now, carefully remove the rosemary and sage. (If you'd like, you can let the sage cool a bit and then chop and add leaves back to the soup.) Then, with your spoon, start to gently mash the squash towards the bottom of the pot - the lemongrass helps with this too. The squash should easily mash and the soup will become even creamier and brighter orange.
8. Finally, add your chopped kale. Again, use the spoon to submerge the kale and cook soup for another minute or two until kale is bright green. Turn off the stove and you're done! Now - you don't want to serve or eat the lemongrass, but I recommend keeping it in the soup when you store it so that it has a chance to impart even more delicious lemongrassy flavor!
FInal tips: You likely have a pretty big pot of soup at this point, and it will keep for a solid week in the fridge. I've been making and eating large pots of this all by myself so I've come up with a few flavor changers/enhancers to keep this interesting throughout the week:
a) For easy protein - when reheating, add some chopped tofu and cook for an extra 5 minutes to make sure it's heated through
b) Just before eating, add a few dollops of pesto or green sauce/salsa verde or a handful of fresh basil and stir in slowly
c) Top with a fried egg (or poach an egg in the soup while reheating) and serve over quinoa
d) Add kalamata olives and chunks of avocado on top - sounds weird but really good! (especially the olives!)